Eiyuu Densetsu Hajimari no Kiseki (Normal Edition) (Japan Version)
PS4
Availability: Usually ships within 7 to 14 days
Related promotions: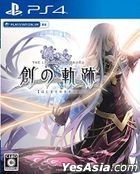 YesAsia Editorial Description
Where it all ends is where everything first began... The Legend of Heroes: Trails series celebrates its 15th anniversary with Hajimari no Kiseki! The tenth game in the main series is set after the events of Trails of Cold Steel IV. Three protagonists – Rean, Lloyd and C – travel across the continent of Zemuria which just narrowly escaped the world-ending calamity of Great Twilight. Hajimari no Kiseki introduces a Cross-Story System that allows you to freely switch between the three protagonists and follow each character's route as you like. The Combat Link System of the Trails of Cold Steel series returns with all-new advanced Valiant attack and recovery techniques.
© 2020-2023 YesAsia.com Ltd. All rights reserved. This original content has been created by or licensed to YesAsia.com, and cannot be copied or republished in any medium without the express written permission of YesAsia.com.
Technical Information
| | |
| --- | --- |
| | |
Product Information
公式サイト:https://www.falcom.co.jp/hajimari/

「軌跡」シリーズ完結に向けた、新たな創(はじまり)の物語

緻密なキャラクター描写と壮大なストーリー展開で男女問わず国内外のユーザーから高評価を受け、トータルセールス450万本を突破したストーリーRPG「軌跡」シリーズ。16年目に突入し、シリーズ全体の完結に向けた新たな「創(はじまり)」の物語、「創の軌跡」がPlayStation4用タイトルとして発売決定!

- 三人の主人公による「クロスストーリー」システム等、新規要素を多数導入!
三人の主人公「リィン」「ロイド」「C」を軸とした三つのルートを任意に切り替えながら進める「クロスストーリー」、新規登場キャラを含む総勢50名以上のプレイアブルキャラクター、各キャラクターの背景を深く掘り下げる「エピソード」シナリオなど、「軌跡」シリーズの長所を活かした新規システムを多数搭載!

- PS4「軌跡」シリーズ4作品とのデータ連動に対応
PS4用タイトルとして好評発売中のシリーズ作品「閃の軌跡III」、「閃の軌跡IV」、「零の軌跡:改」、更に5月28日(木)に発売される「碧の軌跡:改」とのデータ連動に対応。データを所有している場合、タイトルに応じてデータ連動限定アクセサリや便利なアイテムセットを入手することが可能です。


Genre: RPG
No. of Players:1

遊戲類型:RPG
遊戲人數:1人

ジャンル:RPG
プレイヤー:1人

(日本版/ Japan Version)


Additional Information may be provided by the manufacturer, supplier, or a third party, and may be in its original language
Other Versions of "Eiyuu Densetsu Hajimari no Kiseki (Normal Edition) (Japan Version)"