Persona 5 Scramble: The Phantom Strikers (Normal Edition) (Japan Version)
PS4
Availability: Usually ships within 7 to 14 days
Related promotions: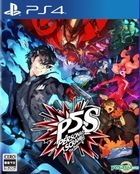 YesAsia Editorial Description
Persona gets the Dynasty Warriors treatment in this hack and slash crossover game set half a year after the events of Persona 5. The Phantom Thieves of Hearts gather again during summer vacation for a completely new mystery in this action RPG. With cases occurring all around Japan, the Phantom Thieves of Hearts end up in a mysterious alternative world to get to the bottom of everything. Developed by Koei Tecmo and Omega Force, Persona 5 Scramble: The Phantom Strikers freshly combines Dynasty Warriors-style combat with the battle mechanics and RPG elements of Persona 5.
© 2020-2023 YesAsia.com Ltd. All rights reserved. This original content has been created by or licensed to YesAsia.com, and cannot be copied or republished in any medium without the express written permission of YesAsia.com.
Technical Information
| | |
| --- | --- |
| | |
Product Information
公式サイト:http://www.jp.playstation.com/scej/title/boku_p/

怪・盗・乱・舞

全世界累計セールス270万本を突破し、数多くのゲームアワードを受賞したピカレスク・ジュブナイルRPG『ペルソナ5(P5)』。TVアニメや音楽ライブ、舞台や漫画など様々なメディア展開も行われ更に拡大を続けるP5が、ファン待望のアクションRPGとなって登場!

P5のエンディングから約半年後、夏休みを利用して再び集まった心の怪盗団が、新たな事件に巻き込まれていく。P5のその後を描いた完全新作ストーリーが展開!

改心事件が日本各地で発生?歪んだ大人の認知世界、パレスが復活?怪盗団は再び怪盗服を身にまとい、異世界の謎へ挑むことに。果たして怪盗団がたどり着く真実とは……?

ペルソナチーム×ω-Forceの新たな最強タッグでお贈りする、日本各地を舞台にしたド派手で爽快なスタイリッシュアクションRPGが爆誕!


Genre: Action
No. of Players:1

遊戲類型:動作
遊戲人數:1人

ジャンル:アクション
プレイヤー:1人

(日本版/ Japan Version)


Additional Information may be provided by the manufacturer, supplier, or a third party, and may be in its original language
Other Versions of "Persona 5 Scramble: The Phantom Strikers (Normal Edition) (Japan Version)"
Search Keywords
The following keywords are associated with this product. Please click on a keyword to search for similar items.