Yoshi's Woolly World (Wii U) (Japan Version)
Wii
Availability: Usually ships within 7 to 14 days
Related promotions: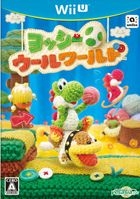 YesAsia Editorial Description
Welcome to Yoshi's Woolly World! Like Kirby's Epic Yarn, the newest adventure in Yoshi's game series is set in a colorful knitting-design world of yarn characters and craftwork obstacles. In the charming side-scrolling platformer, Yarn Yoshi sets off to save his woolly friends from the wizard Kamek who has turned everything into yarn. Instead of eggs, Yoshi can produce and throw yarn balls to thwart enemies while knitting new paths and unraveling secrets.
© 2015-2023 YesAsia.com Ltd. All rights reserved. This original content has been created by or licensed to YesAsia.com, and cannot be copied or republished in any medium without the express written permission of YesAsia.com.
Technical Information
| | |
| --- | --- |
| | |
Product Information
Additional Information may be provided by the manufacturer, supplier, or a third party, and may be in its original language
Other Versions of "Yoshi's Woolly World (Wii U) (Japan Version)"
Version

Product Title
Our Price
Availability

Japan Version

Temporarily Out of Stock
Search Keywords
The following keywords are associated with this product. Please click on a keyword to search for similar items.