Browse
ycec

Editor's Picks By Category

esid

Editor's Picks - By Editor

yca

Feature Articles

ycpc

Professional Reviews
Awards & Festivals

ppid

Music Pop Chart

yceb

Entertainment News
About YumCha!

Detective Chinatown 3 (2021) (Blu-ray) (English Subtitled) (Hong Kong Version)
Wang Bao Qiang (

Actor

) | Tsumabuki Satoshi (

Actor

) | Liu Hao Ran (

Actor

) | Miura Tomokazu (

Actor

)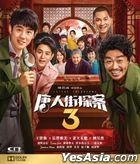 Out of all the films that were originally set for theatrical release in China for Chinese New Year in 2020 and then pushed back due to COVID, only two films delayed their release dates all the way to 2021 Chinese New Year – the cartoon feature
Boonie Bears: The Wild Life
and
Detective Chinatown 3
. Most of the other big-name titles, like
Leap
,
Vanguard
and
Jiang Ziya
, opened later in 2020 or, in the case of
Lost in Russia
, premiered on digital platforms instead.
Detective Chinatown 3
, however, was held an entire year for the Spring Festival opening, because it's very much a Lunar New Year film.
Despite the detective buddy comedy being a surefire blockbuster anytime of the year based on its franchise appeal, Detective Chinatown 3's visuals, tone and promotion strategy – including a New Year's song video – are aimed squarely for the Spring Festival window. The film's jokes and eclectically star-stacked cast also cater to a more accommodating holiday-viewing audience looking for escapist entertainment.
If I had to describe Detective Chinatown 3 with one word, it would be: more. The caper rolls out more of the zany comedy, questionable sleuthing and easygoing star appeal that made Detective 2 a hit during the 2018 Chinese New Year. For this installment, bumbling self-proclaimed detective Tang Ren (Wang Baoqiang) and his genius nephew Qin Feng (Liu Haoran) head to Tokyo to investigate a yakuza locked-room mystery that left one mob boss dead and another as the prime murder suspect. Per usual, Qin Feng does most of the heavy lifting in the thinking (and acting) department for the duo, as the mystery takes on an overload of conspiratorial turns and distractions before falling back on old-timey melodrama amid the slapstick.
In good old Lunar New Year film fashion, Detective Chinatown 3 is filled to the rafters with stars. Tang Ren and Qing Feng are in Tokyo at the invite of fellow Crimaster detective Noda Hiroshi, played by a returning Tsumabuki Satoshi who was the random, unexpected pan-Asian star casting of the second film. That honor goes to Tony Jaa for this installment; the Thai action star plays another detective who's just there, but he gets in an action sequence at the film's start. For the various figures related to the murder investigation, director Chen Sicheng gathers an impressive ensemble of Japanese stars: Nagasawa Masami, Miura Tomokazu, Asano Tadanobu, Suzuki Honami and Sometani Shota. Besides the key players in the story, just about everyone who appeared in previous installments of Detective Chinatown also pop in for cameos, from Wendy Zhang and Xiao Yang to the main cast of the Detective Chinatown web series.
At some point, "more" teeters into "too much," which is why Detective Chinatown 3 is the least well-reviewed entry of the series. When you spend that much time packing in mystery threads, characters and winks to the audience, the core of the story is going to get muddled. This film is not a great entry point into the Detective Chinatown universe, but for those who have watched previous installments, there's still fun to be had. Despite its apparent flaws, Detective Chinatown 3 moves with the pace and ambition of a film that wants to intrigue, excite and entertain you, and its glossy production values and star power are top-notch.
There are for sure more Detective Chinatown entries to come. Though its box office success was overshadowed by Hi, Mom's storybook run, Detective Chinatown 3's 4.5 billion yuan gross makes it China's fifth biggest film of all time. Furthermore, the Detective Chinatown web series that aired in 2020 as a buildup to the film's planned release was well-received, with the eerie, eccentric stories starring Roy Chiu, in particular, presenting new and different possibilities for the franchise direction.
Detective Chinatown 3 sets up more intrigue both about "Q," the #1 ranked detective of the Crimaster app that connects the Detective Chinatown universe, and about Qin Feng's background, as Liu Haoran emerges as the more important player of the detective duo. A surprising reveal is also made at the end of the film that should drive future mysteries of the franchise.
Other Versions of "Detective Chinatown 3 (2021) (Blu-ray) (English Subtitled) (Hong Kong Version)"