Browse
ycec

Editor's Picks By Category

esid

Editor's Picks - By Editor

yca

Feature Articles

ycpc

Professional Reviews
Awards & Festivals

ppid

Music Pop Chart

yceb

Entertainment News
About YumCha!

Tears on Fire (2021) (DVD) (Ep. 1-10) (End) (Tote Bag Limited Edition) (Taiwan Version)
Xia Teng Hong (

Actor

) | Annie Chen (

Actor

) | Liu Kuan Ting (

Actor

) | Austin Lin (

Actor

)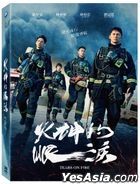 On days of disaster and tragedy, we laud the heroics and sacrifices of firefighters and first responders. But are we providing the needed resources and understanding to support their work and livelihood every day of the year?
The ten-episode PTS series Tears on Fire depicts the experiences and challenges of firefighters and EMTs in Taiwan. The drama follows a typical brigade in the Tongan Branch of Dayuan City Fire Department. The team, which includes James Wen, Annie Chen, Liu Kuan Ting and Austin Lin, works around the clock to respond to emergency calls.
In Taiwan, EMS (emergency medical service) is provided by the fire department, so firefighters are also trained as EMTs (emergency medical technician). Firefighter EMTs truly have to do it all: fight fires, respond to emergencies, transport patients to hospitals and perform rescue operations. This means the Tongan crew is dispatched to the scene of everything from fires and accidents to medical emergencies and welfare checks. They also carry out fire safety inspections, and even help distribute smoke alarms to residents. It's hard to picture so few people being responsible for so many different things, but it's all in a day's work for them.
While most firefighter dramas tend to emphasize the dangerous and firefighting parts of the job, Tears on Fire spends as much time on the mundane and frustrating aspects. On any given day, the protagonists may have to deal with callers or bystanders who criticize or impede their work without understanding the proper procedures and professional knowledge. They may have to make difficult on-site decisions based on protocol and limited information, and then bear the blame of bad outcomes. They may even have to pay for ambulance repair and property damage from an operation out of their own pockets. The public, media and politicians are quick to pile on when things go wrong, but few want to listen when firefighters ask for the budget and resources needed to better perform the many responsibilities placed on their shoulders. Fortunately, the firefighters at least have each other's backs.
The main cast of James Wen, Annie Chen, Liu Kuan Ting and Austin Lin are wonderful across the board in portraying the personal and professional struggles of their characters. James Wen is conscientious veteran Han Cheng whose marriage is splintering because he can't give enough time to his family. Annie Chen's Zi Ling puts on a tough front as the sole woman firefighter of the team who must deal with gender biases. Liu Kuan Ting's Yi Yang gets into conflicts and trouble easily because of his righteous temper. Austin Lin's Zhi Yuan hides his psychological trauma behind an easy smile.
Tears on Fire excels as a human drama about not only the firefighters but also the different people they come across. Director Tsai Yin Chuan previously wrote and directed the quietly moving films Stilt and Packages from Daddy, and he brings that same sensitive touch to television. Easily one of the best Taiwan TV dramas of the year, Tears on Fire won't just elicit tears, but also laughter, compassion, indignation and, most importantly, greater appreciation and understanding of the important and difficult work of firefighters and EMTs.