Yo-kai Watch 4 Bokura wa Onajisora wo Miageteiru (Japan Version)
Nintendo Switch
This product is out of print and no longer available from the publisher
Related promotions: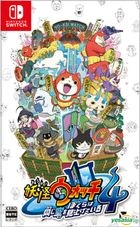 YesAsia Editorial Description
Discover new monsters, new features and improved graphics in the Yo-kai Watch franchise's fourth mainline game – and the first on Switch! The Yo-kai world of Yo-makai – first shown in the movie Yo-kai Watch: Forever Friends – is now open for adventure and exploration. There is a new "soul matching" system to befriend Yo-kai, along with an upgraded graphic presentation and RPG battle system that bring Yo-kai Watch into a new era. Six characters are available for battle as Watchers: Keita (Nate), Touma, Fumi-chan, Natsume, Akinori and Shin.
© 2019-2021 YesAsia.com Ltd. All rights reserved. This original content has been created by or licensed to YesAsia.com, and cannot be copied or republished in any medium without the express written permission of YesAsia.com.
Technical Information
| | |
| --- | --- |
| | |
Product Information
Additional Information may be provided by the manufacturer, supplier, or a third party, and may be in its original language
Customers who bought "Yo-kai Watch 4 Bokura wa Onajisora wo Miageteiru (Japan Version)" also bought
Customers who bought titles featuring also bought titles featuring these artists: