New Gundam Breaker (Normal Edition) (Japan Version)
PS4
List:
US$64.99
Save:
US$55.00 (84%)
Availability: Usually ships within 1 to 2 days
Related promotions: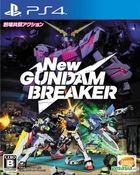 YesAsia Editorial Description
Break, build and battle in New Gundam Breaker, the fourth installment of the popular Gundam Breaker series. Take down enemy Gunpla and collect the fallen parts to create and customize your own Gunpla. You can switch parts both during real-time battle and off the battlefield. In the game's story mode, the protagonist, a recent transfer to Private Gundam Breaker Academy, must advance through battles and build the strongest Gunpla to defeat the evil organization that has taken control of the academy. There is also a new 3-vs-3 co-op mode for team battle.
© 2018-2023 YesAsia.com Ltd. All rights reserved. This original content has been created by or licensed to YesAsia.com, and cannot be copied or republished in any medium without the express written permission of YesAsia.com.
Technical Information
| | |
| --- | --- |
| | |
Product Information
公式サイト:https://gb.ggame.jp/

仲間と共にパーツを集めろ!最強は、俺が創ったガンダムだ!
迫りくる敵ガンプラを爽快に"破壊"、そしてそのパーツを"収集"、集めたパーツで自分だけの俺ガンダムを"創造"して戦う創懐共闘アクションゲーム最新作!

新しくなったガンダムブレイカーは恋もパーツも奪い合い!?
力こそ全てのガンブレ学園を統べる悪の組織【ラプラス・ネスト】キミは学園の頂点を目指し、平和な学園と彼女たちの笑顔を取り戻せるのか!?

<新要素>
- 最強の俺ガンダムの追求はバトル中も可能に!
敵から奪ったガンプラパーツはその場でも換装可能!シリーズ初のリアルタイムカスタマイズバトル!

- ガンプラは発売後も順次無料追加!
様々なガンプラパーツを集めて最強の俺ガンダムを創れ!発売後も新規や過去作のガンプラが続々配信!

- ストーリーが終わってもバトルは続く!
オンラインで全国のビルドファイターと3on3のガンプラ争奪バトル!


Genre: Action
No. of Players:1-6

遊戲類型:動作
遊戲人數:1-6人

ジャンル:アクション
プレイヤー:1-6人

(日本版/ Japan Version)


Additional Information may be provided by the manufacturer, supplier, or a third party, and may be in its original language
Other Versions of "New Gundam Breaker (Normal Edition) (Japan Version)"
Version

Product Title
Our Price
Availability

Japan Version

US$108.99

Usually ships within 7 to 14 days

Temporarily Out of Stock

Others

US$76.99

Usually ships within 7 to 14 days

Temporarily Out of Stock
Customers who bought "New Gundam Breaker (Normal Edition) (Japan Version)" also bought
Customers who bought titles featuring Bandai Namco Games also bought titles featuring these artists: