Browse
ycec

Editor's Picks By Category

esid

Editor's Picks - By Editor

yca

Feature Articles

ycpc

Professional Reviews
Awards & Festivals

ppid

Music Pop Chart

yceb

Entertainment News
About YumCha!

Anime Supremacy! (Blu-ray) (Japan Version)
Ono Karin | Ike Yoshihiro | Yoshioka Riho | Kudo Asuka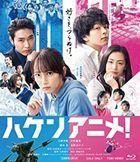 Is there an anime that changed your life? Or maybe just made you believe a bit in magic?
Anime Supremacy
is about the blood, sweat and tears that go into making that anime.
Based on the novel by Tsujimura Mizuki, Anime Supremacy dives headfirst into the comings and goings of the anime industry. While the original novel follows three female protagonists – director Saito Hitomi, producer Arishina Kayako and animator Namisawa Kazuna – the film adaptation concentrates primarily on rookie director Saito Hitomi played by Yoshioka Riho. As a child, Hitomi didn't watch anime and couldn't understand the imaginative play of other kids. It was not until she watched the anime Hikari no Yosuga as an adult that she realized what she had missed out on. Hitomi was so moved by this magical girl anime that she switched gears, leaving her civil servant job to enter the anime industry. Her dream is to make an anime that enchants children, much like Hikari no Yosuga did for her belatedly.
With her directorial debut in motion, Hitomi is set to fulfill her dream, but there are many technical hurdles and challenges to making a TV anime series, and Anime Supremacy goes through them in quick but detailed manner. We follow Hitomi as she goes from meeting to meeting with different teams for tweaking after tweaking over production progress, storyboard, animation, voice recording, promotion and other aspects of making and selling an anime. Notably, Anime Supremacy goes into the cynical but crucial business side of this dream-making industry, with Hitomi's producer (Emoto Tasuku) always at the ready to crunch numbers and give unsentimental reality checks about what's at stake.
Hitomi's future career depends on the success of her first anime Sound Back Kanade no Ishi, a lionhearted hero adventure series with mecha. Success is measured with ratings, and her anime will be airing against the comeback anime of Hikari no Yosuga director Oji Chiharu, played to typically eccentric effect by Nakamura Tomoya. Hailed as a prodigy after the ground-breaking Hikari no Yosuga, Oji is also notorious in the industry for going AWOL on projects – a constant worry that his producer, Arishina Kayako (Ono Machiko), must contend with. Though Oji is the presumed frontrunner in this ratings battle, his career may burn out if his follow-up work Unmei Sensen Liddell-light doesn't deliver.
While the battle for ratings is critical in the industry, the competition is friendly rather than fierce. The teams behind Sound Back Kanade no Ishi and Unmei Sensen Liddell-light all strive to create the best anime series, and let the audience decide the results. This pressure-driven yet positive-minded rivalry sets a professional and inspiring tone for the film's Bakuman-like tour through the anime industry in all its arduous glory. None of the characters have time for personal lives outside of anime.
Considering the film is about making anime, Anime Supremacy doesn't really show enough of the anime on screen. I would have preferred more scenes on the development of the character design and animation styles, and less time on the not-that-interesting misunderstanding between Hitomi and a popular voice actor (played by voice actor Kouno Marika). Nevertheless, the animation segments that do appear in Anime Supremacy are certainly up to industry standard as Tani Azuma (Thermae Roma) directed Sound Back Kanade no Ishi and Otsuka Takashi (One Piece Stampede) directed Unmei Sensen Liddell-light.
Director Yoshino Kohei's punchy direction and pacing capture the rush of production and the spirit of creativity, while checking the boxes for the requisite moving moments and life lessons of a crowd-pleasing commercial Japanese film. In portraying the ins and outs of anime production, Anime Supremacy emphasizes the heart, passion, sacrifices and hard work needed to create an exceptional anime that reaches audiences. This may not be the whole reality of the anime industry, but it's likely the reality that those who make and watch anime want to believe. After all, what draws us to anime is the enchantment.
Other Versions of "Anime Supremacy! (Blu-ray) (Japan Version)"