Browse
ycec

Editor's Picks By Category

esid

Editor's Picks - By Editor

yca

Feature Articles

ycpc

Professional Reviews
Awards & Festivals

ppid

Music Pop Chart

yceb

Entertainment News
About YumCha!

Ari Ari the Korean Cinema (DVD) (Korea Version)
Yoon Jin Suh (

Actor

) | Chung Ji Young (

Actor, Producer

) | Bong Joon Ho | Moon So Ri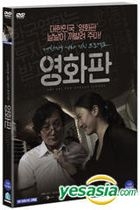 Ari Ari The Korean Cinema
plays like a who's who reel of Korean filmmakers past and present, blockbuster and indie, all giving their two cents about the Korean film industry – and the picture they paint is painfully honest. The first feature from director Heo Chul, this interesting documentary is a self-reflexive work for fest audiences, an examination of the past, present and future of Korean cinema from the perspective of the people inside the bubble.
This is no beginner's guide or history lesson: Ari Ari speaks to the already initiated, jumping straight into various topics and developments of Korean cinema through interviews with actors, critics and nearly every director of note one can name. Chung Ji Young, a prolific veteran director of the eighties and nineties who returned last year with Unbowed and National Security, served as co-producer for the film, as well as interviewer and interview subject. His involvement is no doubt a big reason why so many directors answered the call to provide sound bites for the film.
Ari Ari is most enjoyable when it's conversational, industry giants sitting around discussing filmmaking and sharing anecdotes – be it Park Chan Wook and Bong Joon Ho downing soju at the same table, Lee Chang Dong complaining about "the van" as the symbol of the agency management system that now isolates stars from staff, Im Kwon Taek talking about how he prefers film over digital from the set of his first digital movie Hanji, or Ahn Sung Ki and Park Joong Hoon casually reminiscing about their run-ins with gangsters in the film industry back in the seventies and eighties.
The documentary does apply structure to its story, touching on significant periods of change like the golden age of cinema in the sixties, the late nineties boom and the conglomeration of the oughties, as well as topics of interest like the role of women in Korean cinema. A round-circle discussion with directors Lim Soon Rye, Bang Eun Jin, Byun Young Joo and Park Chan Ok and interviews with actresses Bae Chang Ok, Moon So Ri, Kim Hye Su and Kang Su Yeon reveal the challenges faced by female filmmakers and actresses in a male-centric industry. This topic seems particularly relevant in the presence of actress Yoon Jin Suh, who served as an interviewer for the documentary but more often seemed relegated to hesitant, awkward observer.
Chung Ji Young, meanwhile, represents a previous generation of filmmakers. He, along with directors like Bae Chang Ho, Lee Jang Ho, Jang Sun Woo, Kim Soo Yong and Lee Doo Yong, frankly voiced the difficulties older directors have finding work and funding in the current film industry. I've often wondered why so few directors of the eighties still make films and why so many new major studio productions are helmed by first-time directors; this documentary gave me an answer.
The name dropping doesn't end. There's also Kim Jee Woon, Kang Je Gyu, Kang Woo Suk, Im Sang Soo, Yoon Je Kyun, Kim Yong Hwa, Choi Dong Hoon, Jeong Yun Cheol, Han Ji Seung, Lee Joon Ik, Hur Jin Ho, Park Kwang Su and Kwak Kyung Taek, not to mention indie directors like Jeon Soo Il, Leesong Hee Il, Hong Hyung Sook, Yang Hae Hun, Yang Ik Joon and Lee Chung Ryul. Most get in only one or two lines. There's so much to be said by so many people that Ari Ari often lacks focus. The editing feels rushed in the second half, and the film would have probably benefited from less fly-by sound bites in favor of longer clips of the core interview subjects. The completist lineup of talking heads, however, does effectively build the impression that the issues, opinions and problems put forth in the documentary are industry-wide. Casual followers of Korean movies may feel overwhelmed by all the names, but those with a deeper interest in Korean cinema and the film industry should find this forthright documentary well worth the time.