Browse
ycec

Editor's Picks By Category

esid

Editor's Picks - By Editor

yca

Feature Articles

ycpc

Professional Reviews
Awards & Festivals

ppid

Music Pop Chart

yceb

Entertainment News
About YumCha!

Endgame (2021) (Blu-ray) (Hong Kong Version)
Xiao Yang (

Actor

) | Andy Lau (

Actor

) | Wan Qian (

Actor

) | Wang Xue Bing (

Actor

)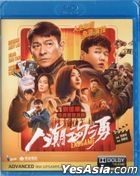 Uchida Kenji's 2012 comedy-drama
Key of Life
about a hitman and a failed actor swapping identities picked up a slew of prizes, and its 2016 Korean remake
Luck-Key
was a box office hit. In 2021, the third iteration of the story arrives with the ambiguously titled Chinese remake
Endgame
. So what does this version offer that hasn't already been covered in the previous two films? Well, for one thing, it has Andy Lau.
Endgame
also has director Rao Xiaozhi, who brings a different vibe to this same story.
Andy Lau wears the heck out of a black suit as precise and unflappable professional killer Zhou Quan whose downfall turns out to be a slippery bar of soap. After taking a fall at the bathhouse, he wakes up with amnesia and assumes the identity of struggling bit actor Chen Xiaomeng (played by funnyman Xiao Yang), who swapped bathroom locker keys with Zhou Quan while he was unconscious. The real Chen Xiaomeng briefly lives it up with his newfound wealth until he realizes Zhou Quan's profession and gets hired for a hit job. Zhou Quan, meanwhile, humbly and methodically throws himself into acting as an extra. He also genially wins the affection of a single mom (Wan Qian), because of course he does – he's Andy Lau. Things head onto a collision course when Chen Xiaomeng tries to back out of the hit job and crosses his client.
Endgame has largely the same plot and twists as Key of Life and Luck-Key, but it gets a fresh coat of paint via Rao Xiaozhi's chaotically stylized yet grittily localized take on the material. The script gleefully incorporates King of Comedy references, adding an extra touch of humor and heart to the protagonists' acting trials and triumphs. The colorful use of dialect also gives the film a good amount of mouthy edge and personality. Huang Xiaolei pretty much steals the show every time she appears to moodily chew scenery in Chongqing dialect as the fiery boss who wants to off those who betrayed her.
Endgame's hectic clash of crime and absurdity with desperation and humanity very much recalls the style and mood of Rao's 2018 sleeper hit A Cool Fish. As a remake, this comedy-drama successfully retains the original story while still offering a fresh spin through the localized tone and distinct aesthetic.
Other Versions of "Endgame (2021) (Blu-ray) (Hong Kong Version)"