Browse
ycec

Editor's Picks By Category

esid

Editor's Picks - By Editor

yca

Feature Articles

ycpc

Professional Reviews
Awards & Festivals

ppid

Music Pop Chart

yceb

Entertainment News
About YumCha!

Every Day A Good Day (Blu-ray) (Normal Edition) (Japan Version)
Kiki Kirin (

Actor

) | Tabe Mikako (

Actor

) | Kuroki Haru (

Actor

) | Yamashita Mizuki (

Actor

)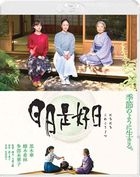 The tea ceremony has a long history and esteemed status in Japanese culture. Besides being a refined art and ritual for the preparation and enjoyment of tea, the Way of Tea embodies zen principles of harmony, purity and tranquility. One particularly famous saying that is associated with the tea ceremony is
ichi-go ichi-e
, or "one time one meeting"; each tea ceremony is a once-in-a-lifetime experience. While such poetic pursuits and principles may seem rather abstract and far off, Omori Tatsushi's gentle drama
Every Day A Good Day
brings the meaning and beauty of the tea ceremony into ordinary life through the growth and experiences of an everyday woman.
We first meet heroine Noriko (Kuroki Haru) as a 20-year-old college student. While her peers are thinking of job hunting and the future, she is unsure of what she wants to do. At her parents' suggestion, she and her more mature, self-assured cousin Michiko (Tabe Mikako) begin taking tea ceremony lessons from Takeda-san (Kiki Kirin). It's the spring of 1993 and they're in the spring of their youth. Once a week, the slightly awkward and anxious Noriko attends Takeda's tea gathering and gradually learns the cultivated ins and outs of the tea ceremony, only to have to relearn everything again when the season changes.
Though guided by grace, tradition and ritual, the tea ceremony isn't some staid affair but a challenging and fascinating art to learn and master – and also a supportive sisterhood and lovely afternoon gathering. The sights and sounds of Takeda's tea room – whisking tea, falling rain, pouring water – are wonderfully captured in crisp audio and cinematography such that the film oozes tranquility through the screen.
The seasons of tea reflect the seasons of life as Noriko grows older and sometimes wiser, bit by bit, year by year. While she often feels lost and stagnant in other aspects of life, the tea ceremony provides peace and purpose that even she doesn't realize at first. As Noriko becomes the experienced veteran to other new learners and comes to understand the deeper meaning of the hanging scrolls in Takeda's room, she also comes to understand herself and her path in life better. The process of learning tea and learning oneself is gradual, subtle, bittersweet, rewarding and lifelong. That Every Day A Good Day can convey this complicated feeling with such down-to-earth warmth and clarity makes it a gem of a movie.
Noriko uses Fellini's La Strada as an example of her growth and appreciation for life. When she watched it as a child, she didn't understand it. But as an adult, she is moved to tears, observing that if La Strada doesn't move you, "your life's not worth living." I won't go as far as to say that about Every Day A Good Day, but this is a film that moves and heals with the simple, illuminating message that your ordinary, clumsy life is worth living and learning. Also, tea is great.
Other Versions of "Every Day A Good Day (Blu-ray) (Normal Edition) (Japan Version)"