Browse
ycec

Editor's Picks By Category

esid

Editor's Picks - By Editor

yca

Feature Articles

ycpc

Professional Reviews
Awards & Festivals

ppid

Music Pop Chart

yceb

Entertainment News
About YumCha!

Gintama: The Final (2021) (DVD) (English Subtitled) (Hong Kong Version)
Miyawaki Chizuru (

Director

)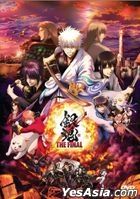 Fans: How many
Gintama
endings will there be?
Gintama
animators: Yes.
In 2018, the Gintama TV anime notoriously ended with a cliffhanger and a long gag about the series finally coming to an end after many fake-out endings. Over two years later, the Gintama anime returns with a feature film of The Very Final ending.
Gintama: The Final starts with an extended Dragon Ball Z parody, in-jokes about the animators being free to do whatever they want since they're not locked down by the grind of a TV anime, and a long narration summarizing the events leading up to the feature film. Before you can gripe about the recap being long and confusing, rest assured, the characters do it for you.
Gintama: The Final adapts the final chapters of Sorachi Hideaki's manga, which wasn't finished back when the TV anime ended. With the world standing on the brink of destruction, Gintoki, Takasugi and Katsura team up for the last showdown against Utsuro. Of course, the fiery fighting scenes and teary moments of hot-blooded camaraderie are liberally and frequently interrupted by low-brow jokes and cheeky references. Everyone is back for the final film – the Odd Jobs rat pack, the Shinsengumi and many other characters we've met along the way.
It wouldn't be a Gintama ending without fake endings, so prepare for gag after gag and fake-out after fake-out, as the makers go to town for this fan-service-stuffed Gintama finale. We wouldn't have it any other way.
Other Versions of "Gintama: The Final (2021) (DVD) (English Subtitled) (Hong Kong Version)"
Version

Product Title
Our Price
Availability

Japan Version