Browse
ycec

Editor's Picks By Category

esid

Editor's Picks - By Editor

yca

Feature Articles

ycpc

Professional Reviews
Awards & Festivals

ppid

Music Pop Chart

yceb

Entertainment News
About YumCha!

HiGH & LOW THE WORST (Blu-ray) (Japan Version)
Kubo Shigeaki (

Director

) | Nakano Yuta | Kawamura Kazuma | Yoshino Hokuto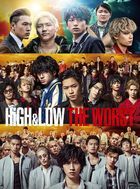 Created by LDH in 2015 as an entertainment franchise revolving around EXILE TRIBE, the
HiGH & LOW
series has taken on a life of its own. Beyond providing a reason for EXILE TRIBE members to expand into acting and LDH artists to drop some tie-in jams, the gangster action series has been a surprisingly viable original film and TV franchise, spawning over ten productions in five years. In the world of
HiGH & LOW
, the gritty town known as S.W.O.R.D. takes its moniker from the five gangs that control the area – Sannoh Rengokai, White Rascals, Oya High School, Rude Boys and Daruma Ikka. Each differently themed gang controls a different part of town, maintaining a tense balance of power against each other and the Kuryu yakuza group that has its eyes on their turf. Of these five gangs, the story of Oya High School is my hands-down favorite, because it's basically
Crows
.
A breeding ground for gangsters, Oya High is filled with students who are there to fight rather than learn. Led by Murayama Yoshiki (Yamada Yuki), the school is further split into factions among the full-time students and part-time students (delinquents who refuse to graduate). While the overall HiGH & LOW series often has an overly serious tone to its brotherhood melodrama and underworld conflicts, the Oya school of hard knocks retains a boisterous and youthful tone while beating each other up. Murayama's loud entrances and hyped-up presence lighten up every brawl, as the boys of Oya fight to either rule the school or to protect the school. Again, it's basically Crows, and HiGH & LOW The Worst giddily affirms that association with Takahashi Hiroshi's blessing by placing Oya High School and Housen Academy into the same universe.
This entertaining crossover film pits Oya High against the notorious Housen Academy from the Crows and Worst manga series. A rival to Suzuran High, Housen is known for overwhelming opponents with its "skinhead army," so dubbed because only the school's top five captains get to keep their hair while everyone else shaves their heads – talk about visual impact! Here, soft-featured Shison Jun plays the leader of Housen, creating a stark contrast in appearances with his underlings.
HiGH & LOW The Worst plops THE RAMPAGE member Kawamura Kazuma into Oya High as the charismatic new transfer Hanaoka Fujio. This character was introduced in the Episode 0 TV prequel that aired before the film's release. He quickly moves his way up the Oya ladder to become de facto leader of the full-time students. Meanwhile, Murayama completes his coming-of-age arc as he faces the reality of keeping a job and finally growing up. Though split into many factions, the Oya boys must set aside their internal power struggle to face the common threat of Housen and to drive out the drug pushers who are infiltrating the hood.
Helmed by the HiGH & LOW series' usual director Kubo Sigeaki, HiGH & LOW The Worst delivers as billed with adrenaline-rushing scenes of high school punks clashing on graffitied rooftops and running full speed towards massive brawls – all while Doberman Infinity's Oya High theme Jump Around plays in the background, of course. Between beating each other up for righteous reasons, the boys wax about their codes of friendship, loyalty and honor in true manga fashion. Now that we've had Oya vs. Housen, please let Oya vs. Suzuran happen!
Other Versions of "HiGH & LOW THE WORST (Blu-ray) (Japan Version)"