Browse
ycec

Editor's Picks By Category

esid

Editor's Picks - By Editor

yca

Feature Articles

ycpc

Professional Reviews
Awards & Festivals

ppid

Music Pop Chart

yceb

Entertainment News
About YumCha!

Jujutsu Kaisen 0 (Blu-ray) (Normal Ediiton) (Japan Version)
Uchiyama Koki | Akutami Gege | Sakurai Takahiro | Hanazawa Kana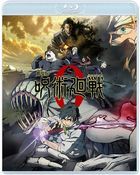 We'll have to wait for Season 2 of the
Jujutsu Kaisen
anime for the continuing story of Itadori Yuji, but to find out to what happened before Yuji's arrival, there's the feature film prequel
Jujutsu Kaisen 0
. Based on Akutami Gege's same-titled manga (which was published before
Jujutsu Kaisen
),
Jujutsu Kaisen 0
revolves around the Jujutsu High School class of Okkotsu Yuta, Zenin Maki, Panda and Inumaki Toge when they were first-year students.
Providing an interesting parallel to Yuji's story, fan-favorite character Okkotsu Yuta is the protagonist of Jujutsu Kaisen 0. The teenage boy is timid by nature and bullied by classmates, but he is protected by the cursed spirit of his late childhood sweetheart Orimoto Rika. Immensely powerful, blood-thirsty and devoted, Rika wreaks great harm on those who want to harm Yuta. After a violent incident at school, Yuta is resigned to being punished alone, but the ever glib Gojo Satoru swoops in to save him and bring him to Tokyo Prefectural Jujutsu High School where he becomes classmates with Maki, Panda and Toge.
Jujutsu Kaisen 0 unfolds in entertaining episodic fashion as Yuta trains, takes on missions and gradually gets to know his classmates and himself. Yuta holds great powers as the wielder of a special grade curse, but he must learn to control his power and face his inner fears. Only then can he free Rika and himself from their heartbreaking bond. However, Yuta's power also makes him the target of Geto Suguru.
Again directed by Park Sung Hoo, Jujutsu Kaisen 0 is a must-watch for fans of the Jujutsu Kaisen anime series as it complements and expands on the Jujutsu universe. At the same time, as a prequel, Jujutsu Kaisen 0 can be enjoyed as a standalone film without watching Jujutsu Kaisen first, though prior knowledge makes the story more interesting and impactful. Besides the tragic backstory of Okkotsu Yuta, the film reveals backstory elements on Satoru, Maki, Toge and Geto. Plus, just about every sorcerer from the Tokyo and Kyoto schools drops in for a cameo in the epic fight against the night parade of cursed spirits unleashed by Geto!
Other Versions of "Jujutsu Kaisen 0 (Blu-ray) (Normal Ediiton) (Japan Version)"