Browse
ycec

Editor's Picks By Category

esid

Editor's Picks - By Editor

yca

Feature Articles

ycpc

Professional Reviews
Awards & Festivals

ppid

Music Pop Chart

yceb

Entertainment News
About YumCha!

Man In Love (2021) (DVD) (Hong Kong Version)
Roy Chiu (

Actor

) | Tiffany Ann Hsu (

Actor

) | Tsai Chen Nan (

Actor

) | Chung Hsin Ling (

Actor

)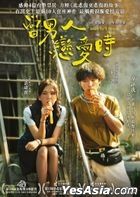 Before watching Yin Chen Hao's blockbuster romance
Man in Love
, I was rather surprised about its box office success. I did not love the original Korean film from which it was adapted, and was skeptical of how the remake managed to enter Taiwan's top ten domestic films of all time. After I watched it, I completely understood why it's such a crowd-pleasing hit.
On paper, the Taiwan remake of Man in Love tells just about the same story as the Korean film. Ah Cheng (Roy Chiu) is a street gangster who collects debt for a living. Though he's quick to yell and fight, he has a kind heart, and looks out for struggling debtors in his own way. He coerces bank clerk Hao Ting (Tiffany Ann Hsu) to take on the debt of her critically ill father, and then offers to lessen her debt in exchange for dates. Smitten with Hao Ting, Ah Cheng pursues her with a brutishly direct yet boyishly clumsy sincerity that gradually wins her over.
Music video director Yin Chen Hao brings a dynamic pace and visual language to his feature debut that eschews the melodramatic tone of the original Korean film. The story is successfully localized to a Taiwanese setting with colorful dialect, dry humor and the depiction of Ah Cheng's taike-type thug who plies the local temple and street stalls. Aided greatly by Roy Chiu's devilishly charming screen presence, the character of Ah Cheng convinces as a gruff and unpredictable manchild who is hopelessly in love.
Though Hwang Jung Min and Han Hye Jin both gave fine performances in the Korean version of Man in Love, I wasn't particularly moved by their pairing or the overt tear-jerking of the film. The Taiwanese version's subtler emotions and the strong chemistry between Chiu and Hsu elevate the star-crossed romance into a more natural love story (that came true in real life!).
Other Versions of "Man In Love (2021) (DVD) (Hong Kong Version)"