Browse
ycec

Editor's Picks By Category

esid

Editor's Picks - By Editor

yca

Feature Articles

ycpc

Professional Reviews
Awards & Festivals

ppid

Music Pop Chart

yceb

Entertainment News
About YumCha!

Modest Heroes (Blu-ray) (English Subtitled & Audio) (Japan Version)
Kimura Fumino | Odagiri Joe | Ono Machiko | Yonebayashi Hiromasa (

Director

)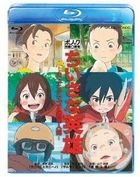 Studio Ponoc continues down the Studio Ghibli path with a collection of whimsical, lovingly animated short films, and you don't have to go to a museum in Tokyo to watch them like the Ghibli shorts. The anthology
Modest Heroes
features original shorts written and directed by three former Ghibli animators, including Yonebayashi Hiromasa. The three charming shorts are very different in story but carry the common theme of small heroes.
In the case of Yonebayashi's Kanini & Kanino, the heroes are quite literally small. Yonebayashi created a beautiful yet perilous countryside world for thimble-sized people in 2010's The Borrower Arrietty. Kanini & Kanino creates a beautiful yet perilous underwater world for a family of anthropomorphized river crabs. After their father gets swept away, two little crab children venture through the woods and waters on their own to find their family. Their bright and colorful environment instantly turns a bit darker, with sharp-teethed fish and circle-of-life lessons swirling all around. These little heroes also grow up in an instant without even realizing it as they face the brief yet momentous coming-of-age trial. I'm beginning to think that Yonebayashi is best at telling stories about itty-bitty people in a big world.
The everyday can be gravely dangerous in Life Ain't Gonna Lose from Momose Yoshiyuki, who also directed the Ni no Kuni film that came out in August. This warm suburban story is about a boy with a severe egg allergy and the mother who raises him with all her heart. In a series of effective montages, we see the anxieties of a mother constantly on edge to protect her baby, the frustrations of an ordinary young boy, and the sudden dangers and omnipresent obstacles of a world full of egg on the menu. Simple, straightforward and relatable, the short captures the perspective and bravery of both the mother and the child.
Yamashita Akihiko's Invisible closes the anthology with a Kafkaesque story about an invisible man, a forgotten salaryman who is fading into oblivion. Even without drawing out a physical body and facial features, the animation signals the character's tired burden and lonely despair through his stooped, weightless silhouette and the washed-out world of gray and brown. The invisible man is so light that he needs to anchor himself down with a heavy object to not be blown away, which is what happens eventually. But in his most desperate and vulnerable moment, he also encounters the chance to make a heroic decision. Besides unsettling the viewer with the haunting symbolism and existential crisis of an alienated invisible man, the short also stirs the senses with its stunning imagery, often employing POV shots and dynamic scenes of rapid movement against wind and rain. As the darkest and strongest entry of the collection, Invisible brings a mature and reflective undertone to this otherwise family-friendly feature, and a hint of what other directions Studio Ponoc could go with their future works.
Modest Heroes is the first of what is intended to be a series of anthologies, and I can't wait to see what else Studio Ponoc has to offer.
Other Versions of "Modest Heroes (Blu-ray) (English Subtitled & Audio) (Japan Version)"
Version

Product Title
Our Price
Availability

Japan Version

US$35.99

Usually ships within 7 to 14 days

US Version

US$21.99

Usually ships within 7 to 14 days