Browse
ycec

Editor's Picks By Category

esid

Editor's Picks - By Editor

yca

Feature Articles

ycpc

Professional Reviews
Awards & Festivals

ppid

Music Pop Chart

yceb

Entertainment News
About YumCha!

My Missing Valentine (2020) (Blu-ray) (English Subtitled) (Taiwan Version)
Liu Kuan Ting (

Actor

) | Patty Lee (

Actor

) | Duncan Chow (

Actor

) | Lin Mei Chau (

Actor

)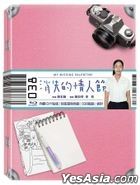 No one really expected
My Missing Valentine
to be the biggest winner of this year's Golden Horse Awards. After all, it's a hybrid of romantic comedy and fantasy, two genres that always face an uphill climb at serious film awards like the Golden Horse Awards. This is all thanks to the ace up its sleeve: Chen Yu-hsun. The 58-year-old writer-director is one of the less prolific comedy directors in Taiwanese cinema –
My Missing Valentine
is only his fifth feature film since 1994 – but he is also one of its cleverest, thanks to his knack for blending charming humor with fantastic gimmicks. With
My Missing Valentine
, Chen has made a wonderfully whimsical return to form.
Post office worker Hsiao-chi (Patty Lee, in her first starring film role) has always lived faster than everyone, to the point that she's never in sync with anyone – even all her photos show her with her eyes closed. After nearly 30 years of being unlucky in love, the lovelorn Hsiao-chi finally scores a Valentine's Day date with a shady exercise instructor (Duncan Chou) whom she randomly meets in a park.
However, Hsiao-chi somehow ends up waking up in bed on the morning of February 15th, with Valentine's Day passing her by without any memory of what happened. From here, the story shifts its perspective to Ah Tai (Liu Kuan-ting), an eccentric bus driver who frequents the post office that Hsiao-chi works in. It's him who holds the key to Hsiao-chi's missing Valentine's Day in surprising ways.
The above plot description may seem vague and even a bit of a tease, but My Missing Valentine is a film that's best experienced with as little knowledge of its secrets as possible. The film's first half is deceptively aimless as it takes its time to lay out Hsiao-chi's life, but Chen's relaxed approach pays off in the second half when he finally reveals his cleverly laid plans. Even if his time-related gimmick doesn't make a whole lot of sense (this film is far more fantasy than science fiction), Chen's imaginative way of using time to show that mismatched rhythms can result in the best-matched couple helps it stand out from other romantic comedies.
Chen's script finds a balance between the brain and the heart. Instead of being bogged down by the complexities of his gimmick, Chen's script is more focused on crafting hilariously offbeat characters and unexpected gags. As he had done in his 2012 hit Zone Pro Site, he populates My Missing Valentine with memorably odd supporting characters and hysterical throwaway gags, including Hsiao-chi's gorgeous but amusingly vapid co-worker (chess prodigy Joanne Missingham), the exercise instructor's wonderfully wacky Thai shrimp dance song (written by musician-turned-actor Ma Nien-hsien), and Bamboo Chen's cameo as a radio program host who always appears covered in mosaic. My Missing Valentine would perhaps be considered too lighthearted elsewhere to receive the critical recognition it has received in Taiwan, but the Golden Horse jury deserves credit for recognizing just how hard it is to craft a romantic comedy as successful as this one.
by Kevin Ma
Other Versions of "My Missing Valentine (2020) (Blu-ray) (English Subtitled) (Taiwan Version)"