Browse
ycec

Editor's Picks By Category

esid

Editor's Picks - By Editor

yca

Feature Articles

ycpc

Professional Reviews
Awards & Festivals

ppid

Music Pop Chart

yceb

Entertainment News
About YumCha!

Raging Fire (2021) (Blu-ray) (Hong Kong Version)
Nicholas Tse (

Actor

) | Donnie Yen (

Actor

) | Qin Lan (

Actor

) | YANG TIAN YU (

Actor

)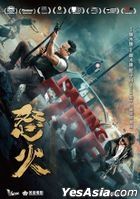 When people think of Hong Kong's greatest action film directors, Benny Chan may not be among the first few names to come to mind – but he should be. From the late 90s onwards, there have been few directors as reliable for solid, unpretentious and entertaining Hong Kong action as Benny Chan. From
Big Bullet
,
Divergence
and
Rob-B-Hood
to
Connected
,
The White Storm
and
Call of Heroes
, his films may not have traveled as many fests and won as many awards as those of his more famous contemporaries, but they sure were fun to watch. Even the bad Benny Chan films, like
City Under Siege
and
Meow
, were spectacularly bad rather than bleh.
Benny Chan's final feature Raging Fire is everything great about the director. The no-holds-barred crime actioner is heavy on both the ballistics and the dramatics, and it stars two of his greatest partners in action, Donnie Yen and Nicholas Tse. Donnie Yen worked with Chan back in the 90s for the ATV classics Fist of Fury and The Kung Fu Master. Nicholas Tse starred in Chan's Gen-X Cops, New Police Story, Invisible Target and Shaolin.
Nic gives a wildly charismatic and over-the-top performance in Raging Fire as tortured antagonist Ngo, a vengeful ex-cop out for blood against the institution that he feels has wronged him. Donnie is the unflappable man of integrity as Inspector Cheung, who must stop his former colleague's murderous crime spree. The gradual reveal of the events that set Ngo and his team on the path of no return effectively builds tension and gravitas for the classic good cop vs. bad cop showdown.
This raging thriller is filled with standout action sequences including crazy car chases, street shootouts and various fight scenes with hand-to-hand combat and knife techniques. Donnie takes on an entire village of goons at one point, and the film packs its deciding punch in a brutal one-on-one final fight that delivers both physical and visceral impact. Raging Fire is one of Hong Kong's best action films of recent years, and a lasting reminder of how much Benny Chan will be missed.
Other Versions of "Raging Fire (2021) (Blu-ray) (Hong Kong Version)"