Browse
ycec

Editor's Picks By Category

esid

Editor's Picks - By Editor

yca

Feature Articles

ycpc

Professional Reviews
Awards & Festivals

ppid

Music Pop Chart

yceb

Entertainment News
About YumCha!

Shock Wave 2 (2020) (4K Ultra HD + Blu-ray) (Hong Kong Version)
Andy Lau (

Actor

) | Lau Ching Wan (

Actor

) | Tse Kwan Ho (

Actor

) | Ni Ni (

Actor

)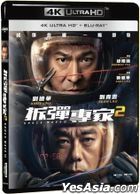 Shock Wave 2
opens with possibly one of the most visually ambitious opening sequences ever in Hong Kong cinema: From multiple angles, Hong Kong International Airport is ripped apart in the blink of an eye by a nuclear explosion. Even though audiences are immediately spoiled by the voice of Lau Ching Wan saying that the nuclear explosion will be stopped in time in reality, the rest of
Shock Wave 2
doesn't pull any punches in bringing the pyrotechnics and firepower, albeit in smaller scale than the opening tease.
Once best known in the industry as a director who can execute modestly budgeted films on time and on budget, director Herman Yau proves with Shock Wave 2 that he has comfortably stepped into the new phase of his career as a reliable name for ambitious big-budget blockbusters. He may have already blown up the Cross-Harbor Tunnel and destroyed an entire subway station before with superstar Andy Lau in the first Shock Wave and The White Storm 2, respectively, but their third collaboration as a producer-director team (let's forget Don't Fool Me and Fascination Amour for now) is their best – and most explosive – film yet.
In a story that shares a few similarities with the Liam Neeson thriller Unknown, Andy Lau stars as Poon, a police bomb disposal expert who lost one of his legs during a rescue mission. Five years after his injury, Poon re-emerges as a member of a terrorist group known as Vendetta, setting off bombs across Hong Kong. However, Poon loses his memory when one of his missions go awry. Convinced by his counter-terrorist operative ex-girlfriend Pong Ling (Ni Ni) that he's a good guy, Poon sets out to expose Vendetta's endgame with the help of his estranged best friend Tung (Lau Ching Wan) while trying to retrace how he ended up with Vendetta in the first place.
Telling a brand-new story with zero connection to its predecessor, the sequel of the 2017 hit upgrades the franchise from a single-crisis thriller to an all-out action spectacular. In addition to the airport explosion and several suspenseful bomb disposal sequences, Yau also stages an exciting chase above a footbridge, a thrilling action set piece in a hotel, and an ambitious finale in Central and on Tsing Ma Bridge (which, unfortunately, also features some very flawed special effects). Yau indulges so much in excess this time around that he even sets a conversation between Poon and Vendetta's leader during a skydive for no logical reason.
Fortunately, the script by Yau, his usual collaborator Erica Li, and Eric Lee links the action sequences with a tightly crafted and intriguing story that examines identity, manipulation and exploitation with surprising depth. Even working within the boundaries of Mainland China censorship (the film is a co-production, after all), Yau manages to use Poon's journey to deliver social critique about systemic injustice without sacrificing visceral thrills. Nevertheless, missing Yau's messages won't affect enjoying Shock Wave 2 as an entertaining action flick at all.
Pretending to be running on a prosthetic limb for most of the film, Andy Lau gives an impressively physical performance as the man on the run. Though this is hardly a breakthrough performance for Lau, there's no doubt that Poon is the superstar's most complex character since his turn as the morally compromised police officer in Firestorm. On the other hand, Lau Ching Wan is sadly given very little to do other than ramping up star power in the obligatory best friend role, despite sharing good screen chemistry opposite his co-star. Tse Kwan Ho leaves a more lasting impression in his supporting performance as the leader of Vendetta. Showing up with white hair and a flamboyantly white outfit that only a film terrorist would wear, Tse turns his performance up to a loud 11. However, it does feel oddly appropriate for a film that starts with a giant nuclear explosion.
by Kevin Ma
Other Versions of "Shock Wave 2 (2020) (4K Ultra HD + Blu-ray) (Hong Kong Version)"