Browse
ycec

Editor's Picks By Category

esid

Editor's Picks - By Editor

yca

Feature Articles

ycpc

Professional Reviews
Awards & Festivals

ppid

Music Pop Chart

yceb

Entertainment News
About YumCha!

Special Actors (2019) (Blu-ray) (Hong Kong Version)
Kitaura Ayu (

Actor

) | Ueda Shinichiro (

Director, Writer

)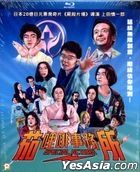 Put yourself in the shoes of director Ueda Shinichiro for a minute. Your low-budget zombie comedy
One Cut of the Dead
has just become the most profitable film in the history of Japanese cinema. The anticipation for your next film is sky-high. How will you meet those expectations? Should you take advantage of your newfound clout and make a film with a sizable budget?
Believe it or not, Ueda chose not to go down that route just yet. After writing and co-directing low-budget caper Aesop's Game with two fellow indie directors, Ueda sticks to his roots for Special Actors, another low-budget comedy that he had committed to before the commercial success of One Cut of the Dead. Though it's missing the bravura twists of Ueda's breakout hit, Special Actors retains enough of its predecessor's joy and almost scrappy charm.
Like One Cut and a number of other Japanese indie films, Special Actors was shaped through workshops with his actors. Ueda first picked 15 actors from a nationwide audition. After gathering the actors' ideas for a plot, Ueda wrote the screenplay with roles that are tailor-made for the actors. Ueda chose Osawa Kazuto (only in his fourth acting role in ten years) as his hero, also named Kazuto, a security guard who is so timid that he faints whenever he gets nervous. Every night, Kazuto returns home and loses himself in the superhero tokusatsu series that he's been obsessed with since he was a child. After losing his job, Kazuto runs into his estranged brother, Hiroki (Kawano Hiroki), who tells Kazuto that he now works as an actor for a talent agency named Special Actors.
However, Special Actors is no ordinary agency. Its elite creative team, which includes a scriptwriter and an acting coach, sends actors to create situations that serve the clients' needs. These range from fake guests at a wedding to playing a molester so that a nerdy salaryman can play the hero in front of his girlfriend. When he learns that Kazuto is out of a job, Hiroki invites him to join the team.
The rent-your-fantasy-fulfillment/do-it-all agency idea has already been done in films such as Iwai Shunji's A Bride For Rip Van Winkle, but Ueda's focus on the creators rather than the clients creates likely intentional comparison to how a film crew puts together a film production. Like One Cut, Special Actors is a humorous and heartfelt ode to the process of playing pretend and make believe. This is especially apparent when the film's main plot kicks in: When the owner of a family-owned hotel is believed to be under the influence of a cult, the owner's younger sister hires the agency to expose them before they take over the hotel. What follows is an elaborate but low-tech caper in which the agency uses every trick in their book to put together an elaborate production that will delegitimize the cult.
Using a more straightforward caper narrative than One Cut's two-hander structure, Ueda finds humor in the cult's absurd merchandising (the cult's logo is shaped like a riceball) and his characters' blunders. Like his previous film, Special Actors is about how his protagonists fulfill their potential and save the day. The stakes aren't particularly high, and the happy ending isn't very hard to guess, but the joy of watching Special Actors is the creative and often hilarious ways that Ueda's twist-filled script uses to take his audience to the inevitable.
While its low budget would be a challenge for most filmmakers, Ueda seems to embrace a pared-down aesthetic that lends the film a folksy, do-it-yourself charm that will inspire aspiring filmmakers all over the world. The inconsistent performances of Ueda's cast can hurt the film at times, as one can expect on a film featuring amateur actors, but it's hard to not to fall under the spell of Ueda's zany creativity and enthusiasm for filmmaking.
by Kevin Ma
Other Versions of "Special Actors (2019) (Blu-ray) (Hong Kong Version)"