Browse
ycec

Editor's Picks By Category

esid

Editor's Picks - By Editor

yca

Feature Articles

ycpc

Professional Reviews
Awards & Festivals

ppid

Music Pop Chart

yceb

Entertainment News
About YumCha!

Stand by Me Doraemon 2 (2020) (Blu-ray) (Hong Kong Version)
Fujiko F. Fujio (

Writer

) | Yamazaki Takashi (

Director

) | Yagi Ryuichi (

Director

)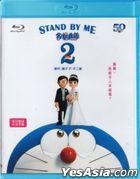 For the past four decades, the
Doraemon
2D animation franchise has seen Nobita, Doraemon and their friends go on exotic, otherworldly adventures. However, this lifelong
Doraemon
fan has always felt that those adventures strayed slightly too far from the canon established in the manga by Fujiko F. Fujio (a.k.a. Fujimoto Hiroshi and Abiko Motoo). Instead, I prefer the sitcom-like short story format that makes up the original manga and the long-running television series.
The short stories almost always follow the same formula – Nobita gets into trouble, Doraemon introduces a magical futuristic gadget that can solve Nobita's problems, and then Nobita gets into even bigger trouble by exploiting the gadget for his own benefit. The writers got to have their cake and eat it by showing off imaginative new gadgets while also encouraging kids to solve their problems in honest ways and not follow Nobita's footsteps.
This is why Stand By Me Doraemon was a pleasant surprise when it came out in 2014. Co-directed by special effects wizards Yamazaki Takashi (better known for live-action film like the Always series and The Eternal Zero) and Yagi Ryuichi, the film cleverly combines several chapters of the original manga into a single cohesive narrative while offering a new visual palette to the Doraemon world by rendering it in 3D animation. Though it still involves time-traveling shenanigans, it tells a more grounded story than the 2D animated films, and offers better fan service by showing the characters as they were in the original stories.
Stand By Me Doraemon 2 pretty much follows the same formula as its predecessor, cleverly combining several chapters of the original manga to tell a single Doraemon adventure that doesn't involve dinosaurs, aliens or space monsters. This time, Yamazaki and Yagi's starting point is A Grandmother's Recollections, possibly the single most moving chapter in the Doraemon manga. Just like the source material, the film starts with Nobita going back in time to see his late grandmother. While the original story ends with the moving image of Nobita lying in his grandmother's lap one last time, the film version of the story sees Grandma making an extra request to Nobita: to meet his future bride. However, when Nobita and Doraemon travel to Nobita and Shizuka's wedding in the future, they discover that adult Nobita has gone missing.
While the first film focuses more on Nobita and Doraemon's friendship, Stand By Me Doremon 2 is, much like the entire Doraemon series itself, about how Nobita learns to grow up and stop shirking his responsibilities. Though the 3D animation doesn't feel as groundbreaking this time around, the film easily achieves its goal of offering fans a nostalgic trip to the classic manga series that they know and love. The scale of the adventure may feel smaller, but it will easily touch the heart of anyone who remembers shedding a tear over A Grandmother's Recollections or The Day I Was Born. While the annual Doraemon films will undoubtedly continue to attract new young fans in the coming years, the Stand By Me series is likely the Doraemon series that old-school fans will keep returning to.
by Kevin Ma
Other Versions of "Stand by Me Doraemon 2 (2020) (Blu-ray) (Hong Kong Version)"