Browse
ycec

Editor's Picks By Category

esid

Editor's Picks - By Editor

yca

Feature Articles

ycpc

Professional Reviews
Awards & Festivals

ppid

Music Pop Chart

yceb

Entertainment News
About YumCha!

Start-Up (2019) (Blu-ray) (Korea Version)
Yeom Jung Ah (

Actor

) | Yoon Kyung Ho | Ma Dong Seok (

Actor

) | Park Jung Min (

Actor

)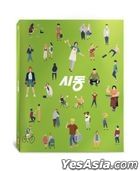 Not to be confused with the 2020 Korean TV series
Start-Up
about a group of ambitious youths trying to launch a start-up business, the 2019 Korean film
Start-Up
is about a group of unambitious youths just trying to start up their lives.
Based on a popular webtoon, Start-Up stars Park Jung Min and Jung Hae In as academically uninclined buddies Taek Il and Sang Pil, who are on the cusp of adulthood but have nothing much going for them. Taek Il runs away from home after getting into a fight with his mother (Yeom Jung Ah). He ends up doing deliveries for a Chinese restaurant, along the way meeting a troubled girl with a mean punch (newcomer Choi Sung Eun). Hoping to make money to support his ill grandmother, Sang Pil starts working for some shady moneylenders. Naturally, nothing good can come out of that.
Writer-director Choi Jeong Yeol took on similar themes of friendship, disillusionment and youth at a crossroads in his 2016 debut feature One Way Trip, but this coming-of-age comedy-drama has less misery and more Ma Dong Seok. The brawny actor pops up as a mysterious cook in a terrible wig who doles out jajangmyeon and some occasional wisdoms. He has a brief storyline, as do various other characters like Taek Il's mother, the restaurant owner and even Sang Pil's debt-collecting mentor.
Start-Up manages to have both so much and not much happening at the same time. As can be expected of a Korean film involving rebellious teens, loan sharks, bad decisions and Ma Dong Seok, violence enters the picture at various points when conflicts come to a head. However, the meandering film never gets overly intense or urgent, even when fists (or bodies) are being thrown, and Taek Il and Sang Pil grow without really changing. While this can be understandably viewed as a missed opportunity to tell a more focused and impactful story, I actually appreciate how comfortably scattered the narrative and characters are. The film largely sticks with its offbeat tone, and avoids going into Korean-cinema-style overdrive with its characters, fights or resolutions.
If One Way Trip is a brisk and brutal road trip that leaves lives in shatters, then Start-Up is a jerky motorbike ride around the block that bruises and batters but also amuses. Start-Up is a bit clumsy and adrift, but hey, so is coming of age.
Other Versions of "Start-Up (2019) (Blu-ray) (Korea Version)"