Browse
ycec

Editor's Picks By Category

esid

Editor's Picks - By Editor

yca

Feature Articles

ycpc

Professional Reviews
Awards & Festivals

ppid

Music Pop Chart

yceb

Entertainment News
About YumCha!

The Long Excuse (DVD) (English Subtitled) (Japan Version)
Nishikawa Miwa (

Director

) | Ikematsu Sosuke | Fukatsu Eri | Motoki Masahiro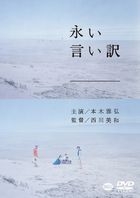 Acclaimed writer, director and novelist Miwa Nishikawa, known for the likes of
Dreams for Sale
and
Dear Doctor
, returns with
The Long Excuse
, based on her own book. The film won attention for featuring in the lead role actor Masahiro Motoki, widely praised for his role in Yojiro Takita's multiple-award winning international hit
Departures
. Like that film,
The Long Excuse
also deals with grief, though in a different way, following the experiences of two men trying to deal with loss after their wives die, and won a number of award nominations as well as playing a list of international festivals.
Masahiro Motoki plays Sachio Kinugasa, an arrogant writer who has left his lowly roots behind and who now looks down on his hard-working wife Natsuko (Eri Fukatsu, Survival Family). When she dies in a bus accident, he finds himself barely moved, more concerned with juggling his extra-marital affairs, and can't even bring himself to cry at the funeral. Things start to change when he meets truck driver Yoichi Omiya (rocker and actor Pistol Takehara, Sketches of Kaitan City), whose wife Yuki (Keiko Horiuchi, A Story of Yonosuke) also died in the crash and who was a friend of Natsuko, and he gradually becomes involved in taking care of his children. Slowly coming to evaluate his life, spurred partly by the outpourings of the emotional and devastated Yoichi, Sachio is forced to make a series of tough choices.
The Long Excuse is a quiet and subtle film, Miwa Nishikawa avoiding any of the kind of cheap sentiment that might have been expected given the premise of a man discovering himself with the help of young children. Although it deals with closure and overcoming not only grief but egocentricity, the film is similarly not a simple redemptive journey, Sachio's experiences and shifting relationships with the children, Yoichi and his ex-wife being complex and multi-layered – the film wins extra points for making Natsuko a constant presence without the help of the usual melodramatic flashbacks. Focusing both on the differences between Sachio and Yoichi and on his bond with the children, the film is moving and thoughtful, its script revolving around some highly engaging dynamics, and there's no obvious good/bad dichotomy between the two men. As usual, Nishikawa proves herself adept at wringing drama and suspense from this kind of setup, and though the film has a deliberate pace, it never feels dull during its two-hour running time, building confidently towards a cathartic conclusion through some surprisingly harsh plot developments.
As with Nishikawa's Dreams for Sale and Dear Doctor, the film deals with a flawed central character, who at the same time for all their faults is portrayed as being human and sympathetic. Sachio definitely falls into this category, running the risk of being distinctly unlikeable thanks to his affairs, drunken ranting, massive ego and self-obsessed lack of grief or remorse, though emerging as an engaging protagonist. This is at least in part down to a fantastic central turn from Masahiro Motoki, who is excellent as Sachio, the role being a natural progression from his character in Departures. Masahiro really nails the heart and soul of the man, managing to make his development believable and moving, without it ever feeling like the usual case of a scoundrel learning life lessons. The rest of the cast are similarly impressive, most of whom deservedly won nominations or awards for their efforts, and Nishikawa gets the best from them, something which makes the film all the more involving.
Not without its moments of humour, The Long Excuse is a great piece of storytelling and a thought-provoking exploration of grief and its impact. Miwa Nishikawa continues to prove herself one of the most accomplished writers and directors working in Japan, and one who can always be relied upon for challenging and quietly emotional drama and complex, painfully human characters.
by James Mudge - EasternKicks.com
Other Versions of "The Long Excuse (DVD) (English Subtitled) (Japan Version)"