Browse
ycec

Editor's Picks By Category

esid

Editor's Picks - By Editor

yca

Feature Articles

ycpc

Professional Reviews
Awards & Festivals

ppid

Music Pop Chart

yceb

Entertainment News
About YumCha!

Tora-san, Wish You Were Here (Blu-ray) (Normal Edition) (English Subtitled) (Japan Version)
Yoshioka Hidetaka | Atsumi Kiyoshi | Baisho Chieko | Maeda Gin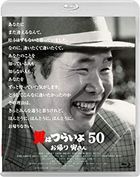 In recent years, American film and television fans have seen reunions and reboots of beloved titles such as
Full House
,
Will & Grace
,
Mary Poppins
,
Scooby Doo
,
30 Rock
and
The Terminator
. In Japan, television stations have also brought back old favorites with long-awaited new seasons of popular series like
Kekkon Dekinai Otoko
,
Haken no Hinkaku
,
Hanzawa Naoki
and even a newly cast season of
Zettai Reido
. Regardless of the quality of these reboots, media executives and producers still believe that nostalgia sells.
With even Godzilla getting reboots in both Japan (Shin Godzilla) and the U.S. (as part of Warner Brother's new MonsterVerse), it's no surprise that 2019 would see the reunion of another long-running Japanese film franchise. From 1969 to 1997, director Yamada Yoji wrote 49 films in the Otoko wa Tsurai yo series. Starring Atsumi Kiyoshi, the series follows the adventures of Tora-san, a traveling salesman, and his family and neighbors back in his home neighborhood of Shibamata.
Still the Guinness World Record holder of the longest-running film series featuring a single actor, the Otoko series presumably ended when Atsumi died of lung cancer in 1996, though the 1997 special edition of 1980's Tora-san's Tropical Fever is officially marked the 49th film of the series. But for the 50th anniversary of the franchise, Yamada reunited the surviving cast members for Tora-san: Wish You Were Here, which brings the series to a nicely rounded 50 films.
Set in present day, Wish You Were Here is a mix of "where are they now" cast reunion, clip show and heartfelt tribute to Tora-san. Yoshioka Hidetoshi, who joined the series at the age of 11 in 1981, reprises the role of Tora-san's nephew Mitsuo, whose coming-of-age made him the series' second protagonist in the later films. The story begins as Mitsuo, now a middle-aged novelist with a teenage daughter, returns to his family home in Shimabata to commemorate the seventh anniversary of his wife's death. As characters reunite, old memories resurface.
A delightful treat for longtime fans and surprisingly accessible to newcomers, Wish You Were Here strikes the perfect balance between a continuation of the Tora-san universe and a nostalgic trip down memory lane. Roughly half the film is composed of recently restored clips of old Tora-san films (rumors of a computer-generated Tora-san, fortunately, turned out to be untrue), but they are cleverly used to show audiences how time has changed each character. For example, clips of young Mitsuo with his first love, Izumi, provide a contrast to middle-aged Mitsuo, now a single father devoted to raising his daughter.
Wish You Were Here is as much about remembering Atsumi and Tora-san as it is about regrets and missed opportunities. Whether it's the reappearance of one of Tora-san's "Madonnas" – failed potential romantic partners who drift in and out of Tora-san's life like Bond girls – or Izumi (Goto Kumiko), the film strikes a bittersweet tone despite also being bathed in warm nostalgia. While many recent reboots are about reviving old characters to prolong their respective franchises' shelf life, Wish You Were Here is a wistful epilogue that sets out to provide proper closure for fans without leaving newcomers behind. Any producer that is looking to reboot an old franchise should look to Wish You Were Here as the new gold standard.
by Kevin Ma
Other Versions of "Tora-san, Wish You Were Here (Blu-ray) (Normal Edition) (English Subtitled) (Japan Version)"