Browse
ycec

Editor's Picks By Category

esid

Editor's Picks - By Editor

yca

Feature Articles

ycpc

Professional Reviews
Awards & Festivals

ppid

Music Pop Chart

yceb

Entertainment News
About YumCha!

Words Bubble Up Like Soda Pop (Blu-ray) (Special Edition) (Japan Version)
Sugisaki Hana | Ichikawa Somegoro | Hanae Natsuki | Ushio Kensuke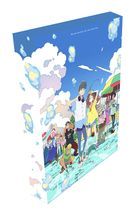 Poetry, music and anime come together in delightfully fizzy fashion in the youth romance
Words Bubble Up Like Soda Pop
, which was produced to commemorate the tenth anniversary of Victor Entertainment's anime-related music label FlyingDog. Directed by Ishiguro Kyohei, this original animated film is a simple yet fanciful boy-meets-girl summer story set in a suburban town.
Bubbly and popular live-streaming influencer Smile (voiced by Sugisaki Hana) feels painfully insecure about her buck teeth and braces, which she hides under a face mask. Painfully shy haiku enthusiast Cherry (voiced by kabuki actor Somegoro Ichikawa VIII) works at an elderly day center and hides under headphones to avoid human interaction. The two run into each other at the mall and accidentally swap phones. Thus begins a teen romance that navigates the adolescent etudes from awkward meet-cute to equally awkward personal growth over that one unforgettable summer.
Visually, the animation aesthetic is invigoratingly distinctive and fit for the story, playing with colors, motion and depth in fresh and stylized ways. The vivid palette of bright and neon colors pops out against rough, raw lines and deliberately flat backgrounds that remain mostly static, adding to the feeling of topsy-turvy when characters suddenly lurch into motion.
Though Words Bubble Up Like Soda Pop hits you early on with loud kids and loud colors, it soon unfolds as a rediscovery of the past and the poetic. The film presents a comfortable intersection of new and nostalgic, juxtaposing streaming and social media with haikus and vinyl records. Smile and Cherry spend a lot of time hanging with old folks at the day center, and they grow their bond through their search for an old vinyl record that holds great meaning for an elderly music store owner. The moving story behind the missing vinyl record of Yamazakura – a gentle kayokyoku-style ballad and the film's theme song – provides the heart (and heartbreaking moments) of the story.
Besides appreciating the old, Words Bubble Up Like Soda Pop understands the young. The film expresses adolescent anxieties and insecurities in painfully direct and relatable manner. No explanation is needed for Smile's sudden self-conscious dislike of her own looks, or for Cherry blushing cherry red over having to publicly recite his haiku, which reveals his inner world in brief, meaningful vignettes. Who hasn't gone through that emo, poetry-writing, awkward-turtle phase? Words Bubble Up Like Soda Pop is the kind of movie that makes you want to sit down, think deep and write a (terrible) haiku of your own.
Do you remember?
That summer when boy meets girl
Poetry meets pop
Other Versions of "Words Bubble Up Like Soda Pop (Blu-ray) (Special Edition) (Japan Version)"